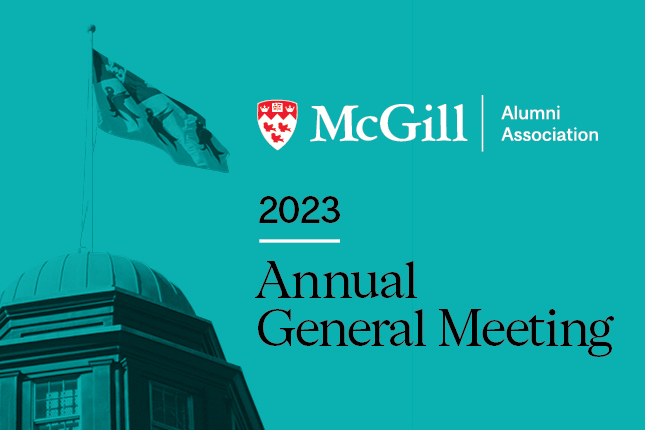 McGill Alumni Association: Annual General Meeting 2023
Tuesday, September 19, 2023
5:30 PM to 7 PM EDT
The
McGill Alumni Association Annual General Meeting
will be held by on Tuesday, September 19, 2023.
The meeting is called for the purpose of receiving reports, electing members to the Board of Directors and the Nominating and Governance Committee, and approving financial statements.
The meeting will feature short presentations by student leaders describing their activities and projects that benefited from MAA sponsorship support last academic year.
Please visit the
MAA website
to view the information on the individuals to be elected.
L'assemblée générale annuelle de l'Association des diplômés de McGill
(ADM) aura lieu le mardi 19 septembre 2023.
L'assemblée est convoquée afin de recevoir des rapports, d'élire les membres du conseil d'administration et du comité de nomination et de gouvernance, et d'approuver les états financiers.
Par ailleurs, des leaders étudiants y présenteront brièvement les activités et projets qui ont bénéficié du soutien de l'ADM lors de la dernière année.
Veuillez consulter le site de l'
ADM
pour en savoir plus sur les personnes à élire.
McGill Alumni Association: Annual General Meeting 2023
Tuesday, September 19, 2023
5:30 PM to 7 PM EDT
Location
Faculty Club - 3450 McTavish Street
Montreal, Quebec
CANADA
View map
RSVP
Register from Jul. 28 to Sep. 15, 2023