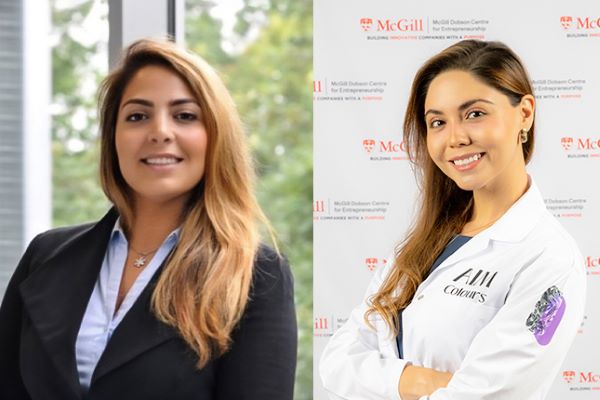 Come & Be Inspired: Women breaking barriers in the tech world
Thursday, November 30, 2023
6 PM to 7:30 PM EST
This inspiring and empowering event will shine a spotlight on two distinguished alumnae who have pioneered innovations and shattered glass ceilings. Hear from Allie Huerta, PhD'21, and Parnaz Tabrizian, BEng'11, as they share insights on their personal journeys, overcoming challenges and learning through working in technology.
The panel will foster thought-provoking discussions on topics such as diversity and inclusion in the tech sector, the future of women in technology, and strategies for overcoming gender barriers.
Following the panel discussion, a networking reception will take place over light refreshments.

ABOUT THE SPEAKERS

Dr. Alejandra Huerta has a diverse background in chemistry, business, and entrepreneurship. She earned her Ph.D. from McGill University in 2021 under the supervision of Prof. C.J. Li, specializing in sustainable methodologies for bio-renewable resources as alternatives to petroleum. During her academic journey, Dr. Huerta completed the MBA certificate program at the McGill Executive Institute under the Clark-SELF scholarship. Her dedication and innovative mindset were recognized when she secured third place in the 2020 Dobson Cup innovation stream, showcasing her ability to transform cutting-edge research into practical and impactful solutions. Since her graduation, Dr. Huerta has worked full-time as the CEO of Technologies AIM Colours, a start-up she co-founded with her sister Isabela. In her role, she supervises product and business development, leading a talented team of computer scientists and hardware engineers. AIM Colours is dedicated to developing deep technology for self-expression, with their first product, ePolish, revolutionizing the nail industry.

Parnaz Tabrizian
is a recognized leader in operationalizing AI technologies to create meaningful impact within organizations. As the former Director of Investment Science at Canada Pension Plan Investments, she spearheaded the integration of advanced analytics, focusing on Machine Learning, Generative AI, and Natural Language Processing. Her strategic insights into capital allocation and security selection have significantly improved financial and ESG outcomes for millions of Canadians. With a rich background spanning more than a decade in technology consulting, Parnaz has been instrumental in the lifecycle management of transformative AI projects across diverse sectors, underscoring her deep expertise in AI operationalization and a commitment to user-centered design principles. Beyond her professional endeavors, Parnaz is a passionate advocate for diversity in tech, actively engaging in initiatives that elevate women in STEM and providing mentorship to emerging fintech and AI enterprises. She holds a Bachelor of Engineering from McGill University, a Master of Science from Concordia University, and an MBA from HEC, reflecting a strong academic foundation that underpins her innovative work.
Come & Be Inspired: Women breaking barriers in the tech world
Thursday, November 30, 2023
6 PM to 7:30 PM EST
Location
Leacock Building, Room 232
855 Sherbrooke St W
Montreal, Quebec, H3A 0C4
CANADA
View map
RSVP
Register from Nov. 10 to Nov. 30, 2023