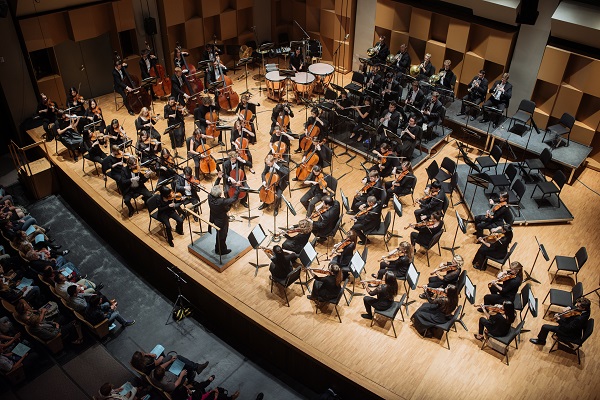 ONLINE: McGill Symphony Orchestra - Webcast
L'Orchestre symphonique de McGill - webdiffusion
Saturday, November 26, 2022
7:30 PM to 9 PM EST
Please join us for a webcast of the McGill Symphony Orchestras upcoming performance on November 26, 2022 in Pollack Hall.
The program will feature a world premiere from 2020-2021 Andrew Svoboda Composition Award Winner,
Chelsea Komschlies
, and a performance of the Tchaikovsky Violin Concerto in D major from winner of the 2021-2022 McGill Concerto Competition,
Samuele Parrini
, BMus'22.
______
Soyez des nôtres en personne ou par webdiffusion lors d'un concert de l'Orchestre symphonique de McGill sous la direction d'Alexis Hauser le 26 novembre prochains.
Au programme, le lauréat du Concours de Concerto de McGill 2021-2022, Samuele Parrini, BMus'22, et une œuvre de Chelsea Komschlies, lauréate du prix de composition Andrew Svoboda 2020-2021.
Details
McGill Symphony Orchestra
Alexis Hauser, Artistic Director and Conductor
Samuele Parrini, violin, Winner of the 2021-2022 McGill Concerto Competition
Chelsea Komschlies, Winner of the 2020-2021 Andrew Svoboda Composition Award
ADOLPHUS HAILSTORK Epitaph for a Man Who Dreamed
PYOTR ILYICH TCHAIKOVSKY Violin Concerto in D major, Op. 35
CHELSEA KOMSCHLIES The Sunken Cathedral (premiere)
LEOŠ JANÁČEK (arr. Heinz Stolba) Sinfonietta
______
Orchestre symphonique de McGill
Alexis Hauser, directeur artistique et chef
Samuele Parrini, violon, lauréat du Concours de concertos de McGill 2021-2022
Chelsea Komschlies, compositrice, lauréate du prix de composition Andrew Svoboda 2020-2021
ADOLPHUS HAILSTORK Epitaph for a Man Who Dreamed
PYOTR ILYICH TCHAIKOVSKY Concerto pour violon en ré majeur, opus 35
CHELSEA KOMSCHLIES The Sunken Cathedral (création)
LEOŠ JANÁČEK (arr. Heinz Stolba) Sinfonietta
ONLINE: McGill Symphony Orchestra - Webcast
L'Orchestre symphonique de McGill - webdiffusion
Saturday, November 26, 2022
7:30 PM to 9 PM EST
Location
online, Montreal, Quebec
CANADA
View map
RSVP
Register from Nov. 22 to Nov. 25, 2022