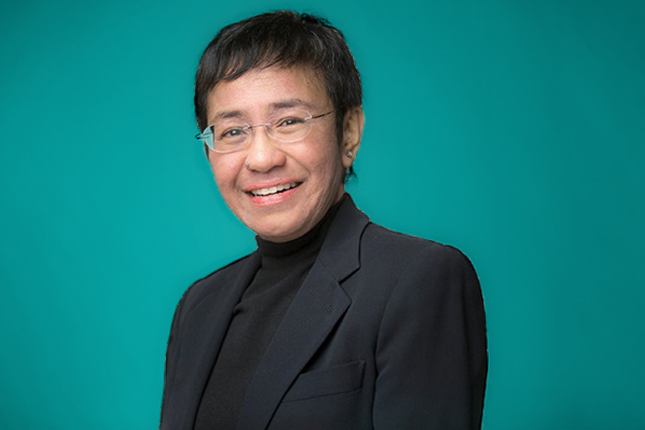 Homecoming: (SOLD OUT) Beatty Lecture - The Battle for Facts: Critical for a Sustainable Future
Thursday, October 20, 2022
6 PM to 7 PM EDT
In the wake of the pandemic, the mounting climate crisis and now Russia's invasion of Ukraine, we are reminded daily that a free press is of paramount importance in keeping the public informed and holding governments accountable.

A journalist for over 35 years, Maria Ressa is the co-founder, CEO and executive editor of Rappler, an online news organization in the Philippines. Her work as a fearless defender of independent journalism and freedom of expression - particularly in exposing the human rights abuses of the authoritarian former President Rodrigo Duterte - culminated in 2021 when she became the first Filipino awarded the Nobel Peace Prize. In her acceptance speech, Ressa cautioned, "Without facts, you can't have truth. Without truth, you can't have trust. Without trust, we have no shared reality, no democracy, and it becomes impossible to deal with our world's existential problems: climate, coronavirus, the battle for truth."

Nahlah Ayed, host of the CBC Radio One program Ideas, will emcee the event. The work of Ayed, a former parliamentary reporter and a veteran foreign correspondent, has garnered numerous awards including from the UK Foreign Press Association and the Canadian Association of Journalists. In 2012, her memoir, A Thousand Farewells, was shortlisted for a Governor General's Literary Award. Ideas broadcasts weeknights at 8 p.m. (8:30 NT) on CBC Radio One and the CBC Listen App.
TICKETS ARE SOLD OUT
Featured Speaker
A celebrated champion of press freedom
Ressa launched her career in journalism working for a Philippine news and entertainment broadcaster, and for the Philippine government's television network. She then joined CNN, working as an investigative reporter and foreign correspondent, reporting on terrorist networks in Southeast Asia. Ressa ran CNN's Manila bureau for nearly a decade before opening the network's Jakarta bureau, which she ran from 1995 to 2005. In 2012, she co-founded Rappler, a start-up online news website. Today, Rappler is the fourth-largest news website in the Philippines and has grown from a team of 12 to one with over 100 journalists.
Born in Manila in 1963, Ressa was nine years old when her family moved to the United States. She attended Princeton University where she earned a bachelor's degree in English and certificates in theater and dance in 1986. She returned to the Philippines as a Fulbright graduate student fellow at the University of the Philippines in 1986 where she took up studies in political theater.
As an investigative journalist, Ressa has distinguished herself by exposing the increasing authoritarianism of the Duterte regime. After he was elected in 2016, Rappler was one of the few news organizations in the country to criticize Duterte's policies including his brutal anti-drug campaign. Ressa, who is a dual citizen of the Philippines and the United States, has been arrested on 10 charges related to exposing the Duterte government's corrupt practices and was convicted of cyber-libel in June 2021. She is out on bail pending her appeal.
Details
Important Information on COVID-19:
We ask
organizers and guests of McGill-sponsored events around the world to
follow local guidelines and policies to lower the risk of COVID-19
transmission. Even where masks are no longer obligatory, they remain
strongly encouraged.
Homecoming: (SOLD OUT) Beatty Lecture - The Battle for Facts: Critical for a Sustainable Future
Thursday, October 20, 2022
6 PM to 7 PM EDT
Location
Pollack Hall, McGill Strathcona Building -
555 Sherbrooke St West
Montreal, Quebec
CANADA
View map
RSVP
Register from Sep. 15 to Oct. 14, 2022