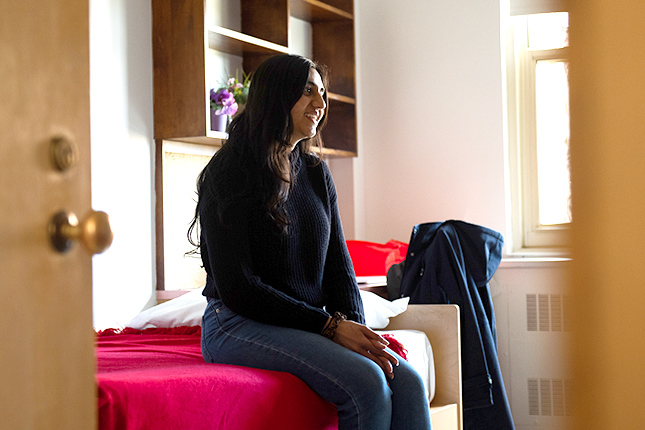 Parents Tent: Promoting Wellness - Supports for Students in Residence
Saturday, August 20, 2022 11 AM to Sunday, August 21, 2022 11 AM EDT
Is your child moving into one of McGill's Residences - and living away from home for the first time? Would you like to know more about how McGill helps support new students' wellness and mental health?
Join us for a presentation by Student Services, where you will learn everything you need to know to support your child's wellness and mental health as they navigate their transition to university life. Hear from one of our Local Wellness Advisors about the wellness and mental health supports and resources available to students and take advantage of the opportunity to ask your most pressing questions.

Featured Speaker:
Cyndi Owen: Local Wellness Advisor (Residences), Student Services


Details
Please note that both sessions will present the same material.

Session 1: Saturday, August 20; 11am-12pm
Frank Dawson Adams Building - Auditorium
3450 University
Session 2: Sunday, August 21; 11am-12pm

Frank Dawson Adams Building - Auditorium
3450 University
Important Information on COVID-19:
We ask organizers and guests of McGill-sponsored events around the world to
follow local guidelines and policies to lower the risk of COVID-19 transmission.
Even where masks are no longer obligatory, they remain strongly encouraged.

To register for an event, please use our secure registration system via the "Add to Cart" button. Please do not transmit your credit card information by any other means, in order to preserve the confidentiality of your information.
Parents Tent: Promoting Wellness - Supports for Students in Residence
Saturday, August 20, 2022 11 AM to Sunday, August 21, 2022 11 AM EDT
Location
Auditorium - Frank Dawson Adams Building
3450 University
Montreal, Quebec, H3A 2A7
CANADA
View map
RSVP
Register from Jul. 1 to Aug. 19, 2022