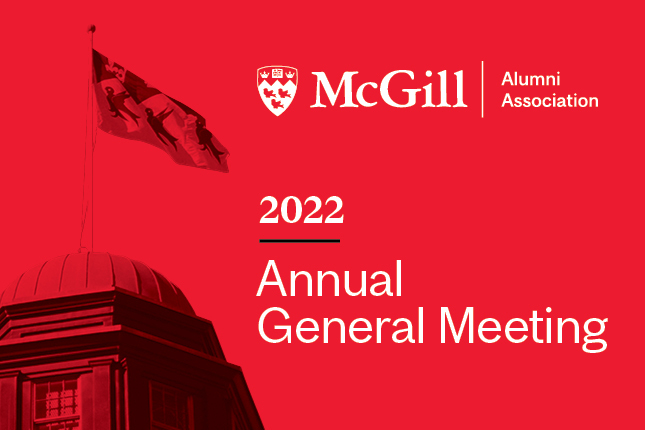 ONLINE: McGill Alumni Association: Virtual Annual General Meeting 2022
Association des diplômés de McGill Assemblée générale annuelle virtuelle 2022
Wednesday, September 28, 2022
5:30 PM to 6:30 PM EDT
The
McGill Alumni Association Annual General Meeting
will be held virtually on Wednesday, September 28, 2022.
The meeting is called for the purpose of receiving reports, electing members of the Board of Directors and of the Nominating and Governance Committee, and approving financial statements.
The meeting will feature short presentations by student leaders describing their activities and projects that benefited from MAA sponsorship support last academic year.
Please visit the
MAA website
to view the information on the individuals to be elected.
L'assemblée générale annuelle de l'Association des diplômés de McGill
aura lieu virtuellement le mercredi 28 septembre 2022.
L'assemblée a pour objet de recevoir les rapports, d'élire les membres du conseil d'administration et du comité de nomination et de gouvernance, et d'approuver les états financiers.
Aussi, des leaders étudiants animeront de courtes présentations afin d'expliquer les activités et projets qui ont bénéficié du soutien de l'ADM au cours de l'année dernière.
Details
A link to join the meeting will be shared prior to the event.
Vous recevrez un lien pour accéder à l'assemblée virtuelle avant la tenue de l'événement.
To register for an event, please use our secure registration system via the "Add to Cart" button. Please do not transmit your credit card information by any other means, in order to preserve the confidentiality of your information.
ONLINE: McGill Alumni Association: Virtual Annual General Meeting 2022
Association des diplômés de McGill Assemblée générale annuelle virtuelle 2022
Wednesday, September 28, 2022
5:30 PM to 6:30 PM EDT
Location
Online, Montreal, Quebec
CANADA
View map
RSVP
Register from Aug. 9 to Sep. 27, 2022