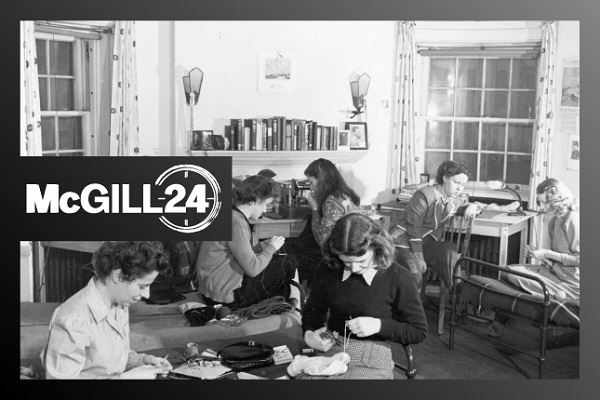 ONLINE: McGill24: Knitting in Code
Wednesday, March 9, 2022
12 PM to 1 PM EST
Codebreakers have infiltrated the public imagination of wartime efforts - but what about code-makers? Historian and knitter Kristen Howard will explore the role knitting played in wartime codes and correspondence, from providing a cover for women spies in WWII to the use of knitting to disguise or amplify messages. Case studies will include the French Revolution, American Revolutionary War, and the World Wars.
Kristen will also present a new knitting pattern incorporating both Morse Code and illusion knitting - a method of hiding secret messages in stitches - to demonstrate how knitting can be used today as a form of coded correspondence. The pattern cleverly combines simple knit and purl stitches to incorporate your chosen message. Can you crack the code?
About the Speaker:
Kristen C. Howard is a historian, knitter, and Master of Information Studies student at McGill University. She completed a PhD in History from the Division for Late Medieval and Reformation Studies at the University of Arizona in 2020. She currently studies library and archival sciences, and is interested in animating special collections through public history and creative projects.
Details
About McGill24:
McGill24, the University's annual day of giving, is a global fundraiser for students, researchers and student-athlete. Join the festivities online on March 9!
The link to join the virtual event will be sent 48 hours prior to the event.
DISCLAIMER: By attending this event, you consent to share your name and email with Zoom, and your name as well as video and audio (if you select these options in-event) with other event attendees. This Zoom account is managed by McGill University. Zoom will share your contact information with the account manager. McGill University does not provide any information about you to Zoom. Your use of Zoom is governed by the platform's Privacy Policy.
ONLINE: McGill24: Knitting in Code
Wednesday, March 9, 2022
12 PM to 1 PM EST
Location
Online, Montreal, Quebec
CANADA
View map
RSVP
Register from Jan. 31 to Mar. 9, 2022