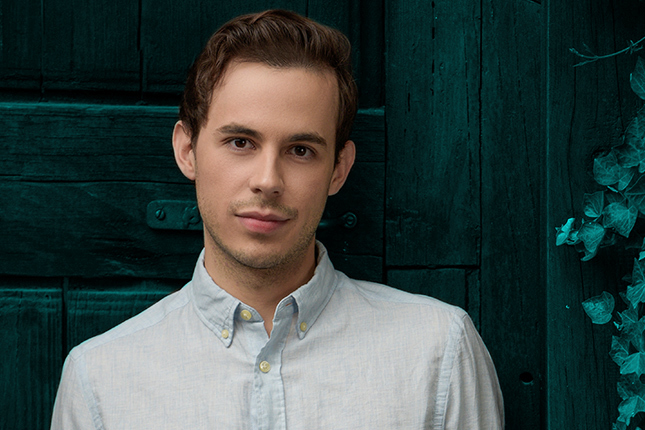 ONLINE: Homecoming: A Conversation with author Daniel Aleman on Indivisible
Un entretien avec l'auteur Daniel Aleman au sujet de son ouvrage, Indivisible
Friday, October 1, 2021
7 PM to 8:30 PM EDT
Join
McGill Young Alumni
and the
McGill Latino Alumni Society
as they welcome
Daniel Aleman
, BCom'16, the author of Indivisible. Named a top LGBTQ+ book of 2021 (
Buzzfeed
) and one of the top 10 books by Latinx authors in 2021 (
Refinery29
), the novel tells the story of a teen whose Mexican-American family is being torn apart by ICE and facing deportation. In this special jointly presented At-Home Homecoming event, Aleman will share his story and answer questions from the audience.
Les
Jeunes diplômés de McGill
et
l'Association des diplômés latino-américains
de l'Université vous convient à une soirée avec
Daniel Aleman
(B. Com. 2016), auteur d'Indivisible, un ouvrage qui se classe dans les meilleurs romans LGBTQ+ de l'année (
Buzzfeed
) et dans les 10 meilleurs romans écrits par des auteurs d'origine latino-américaine en 2021 (
Refinery29
). Le personnage principal d'Indivisible est un adolescent dont la famille mexicano-américaine, déchirée par les services d'immigration, risque la déportation. Pendant cette soirée spéciale de Retrouvailles virtuelles, organisée conjointement par les deux associations, Daniel Aleman reviendra sur son parcours et répondra aux questions du public.
About the speaker:
Daniel Aleman, BCom'16, was born and raised in Mexico City. A graduate of McGill University, he is passionate about books, coffee, and dogs. After spending time in Montreal and the New York City area, he now lives in Toronto, where he is on a never-ending search for the best tacos in the city. He is the author of Indivisible, which received a starred review from Booklist and is a Junior Library Guild Gold Standard Selection.
Philanthropic Project:
The
McGill Dobson Centre for Entrepreneurship
is the hub of entrepreneurial activity at McGill. The Dobson Centre offers students, faculty, and alumni programs tailored to the different stages of the entrepreneurial journey, mentorship opportunities, and access to a wide network of resources.Zoom - link to join will be sent via reminder email to registrants.
Details
A link will be shared prior to the event.
Les participants recevront un lien Zoom par courriel.
DISCLAIMER: By attending this event, you consent to share your name and email with Zoom, and your name as well as video and audio (if you select these options in-event) with other event attendees. This Zoom account is managed by McGill University. Zoom will share your contact information with the account manager. McGill University may use your provided contact information to inform you about other McGill University Advancement activities. McGill University does not provide any information about you to Zoom. Your use of Zoom is governed by the platform's Privacy Policy.
We are proud to announce that our event has been awarded Virtual Sustainable Event certification by the McGill Sustainable Events program run by the McGill Office of Sustainability.
ONLINE: Homecoming: A Conversation with author Daniel Aleman on Indivisible
Un entretien avec l'auteur Daniel Aleman au sujet de son ouvrage, Indivisible
Friday, October 1, 2021
7 PM to 8:30 PM EDT
Location
Online, Montreal, Quebec
CANADA
View map
RSVP
Register from Aug. 19, 2020 to Sep. 30, 2021