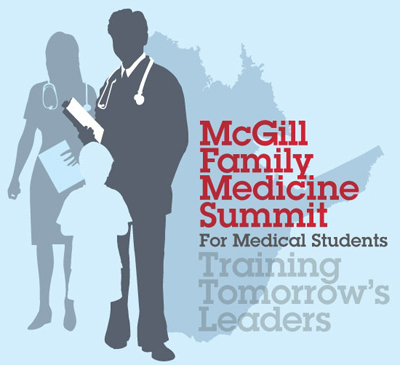 Family Medicine Summit
(Faculty of Medicine -- General)
Saturday, November 14, 2009
12 PM to 8 PM
(French found below)

Building on the tremendous initiatives of the province's medical faculties and government, the McGill Family Medicine Summit: Training Tomorrow's Leaders is continuing the collective mission to provide exceptional health care to society at large. Never before has a summit been held in Quebec dedicated to bringing together medical students from across the province to showcase the critical and valuable careers of research and academics in Family Medicine.

On Saturday, November 14, Quebec Minister of Health and Social Services Dr. Yves Bolduc will warmly welcome students to an afternoon filled with learning and discovery, proudly hosted by McGill University. Five prominent speakers will share their passion for research and academics in the field of Family Medicine through a series of presentations and panel discussions. The McGill Family Medicine Summit is being held in conjunction with the annual meeting of the North American Primary Care Research Group (NAPCRG).

Training and developing the next generation of family physicians, researchers and teachers is a vitally important part of our ongoing commitment to meet the health needs of current and future populations.

En francais

Le Sommet de médecine familiale de l'Université McGill : Former les chefs de file de l'avenir bâtit sur les initiatives extraordinaires des facultés de médecine et du gouvernement de la province pour poursuivre la mission collective qui est d'offrir des soins de santé exceptionnels à la société en général. Jamais un sommet n'a été tenu au Québec qui soit consacré à réunir les étudiants en médecine de toute la province et à présenter les carrières en recherche et enseignement universitaire qui sont essentielles et d'une grande valeur pour la médecine familiale.

Le samedi 14 novembre, l'Université McGill agira fièrement comme hôte d'une demi-journée riche en apprentissage et en découverte à l'occasion de laquelle le ministre de la Santé et des Services sociaux du Québec, Dr Yves Bolduc, accueillera chaleureusement les étudiants. Cinq conférenciers de renom partageront leur passion pour la recherche et l'enseignement universitaire dans le domaine de la médecine familiale grâce à une série de présentations et une tribune de discussion. Le Sommet de médecine familiale de McGill s'inscrit dans le cadre de l'assemblée annuelle du Groupe de recherche sur les soins de première ligne de l'Amérique du Nord (NAPCRG).

Former et développer la prochaine génération de médecins de famille, de chercheurs et d'enseignants en médecine familiale est une composante importante de l'engagement continu à répondre aux besoins en santé des populations présentes et futures.
Family Medicine Summit
(Faculty of Medicine -- General)
Saturday, November 14, 2009
12 PM to 8 PM
Location
Le Centre Sheraton Montreal Hotel
1201 Boulevard Rene-Levesque West
Montreal, Quebec
CANADA
View map
RSVP
Register from Sep. 11 to Nov. 11, 2009