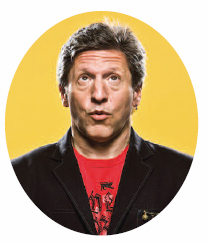 Homecoming: C - CWOQ 3C "CEO Speaker Series: Andy Nulman"
(Homecoming)
Saturday, October 17, 2009
2:15 PM to 3:45 PM
Karl Moore, from the Desautels Faculty of Management, brings his famous CEO Speaker Series to the CWOQs. His special guest is the irrepressible Andy Nulman, President and CMO of Airborne Mobile and former CEO of Montreal's Just for Laughs International Comedy Festival. Listen in as two lively business minds discuss the entertainment industry, communications media, creativity, leadership and the place of laughter at the heart of it all.

Andy Nulman is best known for his 15-year tenure as CEO of Montreal's renowned Just For Laughs, the world's first and largest comedy festival, which he transformed from a two-day show to a month-long cultural event attracting over two million visitors per year. In 1999, Nulman co-founded media and marketing venture Airborne Mobile, of which he is now president and CMO, and has worked to introduce and optimize brands like Family Guy, the NHL, Disney and the NFL in the mobile world. In 2006, Airborne was honoured as North America's fourth-fastest growing company in Deloitte's Technology Fast 500 ranking.

Recently identified as one of the world's great business thinkers, Professor Moore has published over 120 articles, books and papers. His research has appeared in leading journals such as the Harvard Business Review, the Journal of Brand Management, Business History, and Leader to Leader, and he has over 500 Google Scholar citations. His tenth book is entitled "The Origins of Globalization" (Routledge 2009). Professor Moore is co-director, with Henry Mintzberg, of McGill's Advanced Leadership Program.

This session will be filmed for use by the Globe and Mail.

Karl Moore, de la Faculté de gestion Desautels, amène sa réputée série de conférenciers PDG aux Cours sans quiz. Cette année, son invité est l'inénarrable Andy Nulman, président et chef de la direction de Airborne Mobile et ancien PDG du Festival international Juste pour Rire. Ne manquez pas ces deux grands esprits qui discuteront de l'industrie du divertissement, de communications, de médias, de créativité, de leadership et de la place du rire dans tout cela.

Andy Nulman est mieux connu pour les 15 années qu'il a passées à titre de PDG du renommé festival Juste pour Rire, le premier et plus important festival de comédie au monde, qu'il a transformé d'un spectacle de deux jours en un événement culturel d'un mois qui attire maintenant plus de deux millions de visiteurs par année. En 1999 M. Nulman a fondé Airborne Mobile, un projet de média et de marketing dont il est maintenant le président et chef de la direction. Il y a travaillé à présenter et à optimiser des marques comme Family Guy, la LNH, Disney et la LNF dans l'industrie du mobile. En 2006, Airborne fut nommée quatrième entreprise à la croissance la plus rapide en Amérique du Nord sur la liste Technology Fast 500 de Deloitte.

Récemment identifié comme l'un des grands esprits dans le domaine des affaires, le professeur Moore a publié plus de 120 articles, livres et textes. Sa recherche fut publiée dans de prestigieuses publications comme Harvard Business Review, Journal of Brand Management, Business History et Leader to Leader. Il compte à son actif plus de 500 citations scientifiques sur Google. Son dixième livre s'intitule The Origins of Globalization (Routledge 2009). Professeur Moore est co-directeur, avec Henry Mintzberg, du Programme de leadership avancé de McGill.

Cette session sera filmée par le Globe and Mail pour son utilisation.
Homecoming: C - CWOQ 3C "CEO Speaker Series: Andy Nulman"
(Homecoming)
Saturday, October 17, 2009
2:15 PM to 3:45 PM
Location
Arts Building Lobby
853 Sherbrooke Street West
Montreal, Quebec
CANADA
View map
RSVP
Register from Aug. 3 to Oct. 11, 2009