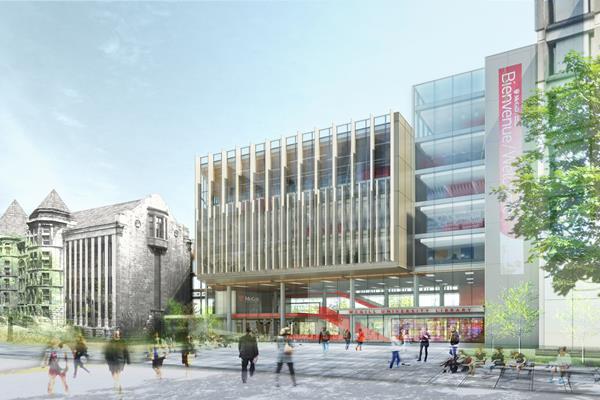 Homecoming: Fiat Lux: Reimagining the McGill Library
(McGill Libraries)
Que la lumière soit : réinventer la bibliothèque de McGill
Saturday, October 29, 2016
9:30 AM to 10:30 AM
The Library is a pillar of the McGill community, serving as a place to work and a home away from home. All students depend upon the McGill Library to achieve academic success and to prepare for their career goals. It serves as the physical and virtual repository for generations of accumulated knowledge that sits at the centre of the teaching, research and learning enterprise that is the core of the McGill University's mission.

The McGill Library must now physically transform its facilities to meet the evolving needs of the 21st century student. Please join Colleen Cook, Trenholme Dean of Libraries, for coffee and a fascinating glimpse into the planned future of the McGill Library.

No charge, but registration required.

La bibliothèque de McGill doit maintenant transformer physiquement ses installations pour répondre aux besoins en évolution de l'étudiant du 21e siècle. Venez rencontrer Colleen Cook, doyenne des bibliothèques Trenholme de McGill, pour un café et un aperçu fascinant de ce que l'avenir réserve à cet établissement de McGill.

Gratuit, mais inscription requise.
.
Details
You are just a few clicks - or a few steps - away from world-class information covering every imaginable discipline. As a graduate, you have in-person access to McGill's vast print collection on campus, as well as electronic access to McGill's expansive online resources from anywhere in the world. For more information on Library services or to obtain your free McGill Library Borrowing Card for Alumni, start your exploration here:
http://www.mcgill.ca/library/services/alumni
Information on a variety of special events related to McGill's unique collections can be found by visiting the Friends of the McGill Library:
http://www.mcgill.ca/library-friends/
Homecoming: Fiat Lux: Reimagining the McGill Library
(McGill Libraries)
Que la lumière soit : réinventer la bibliothèque de McGill
Saturday, October 29, 2016
9:30 AM to 10:30 AM
Location
Ground Floor, Research Commons -
McLennan-Redpath Library Building
Montreal, Quebec, H3A 0C9
CANADA
View map
RSVP
Register from Aug. 1 to Oct. 27, 2016