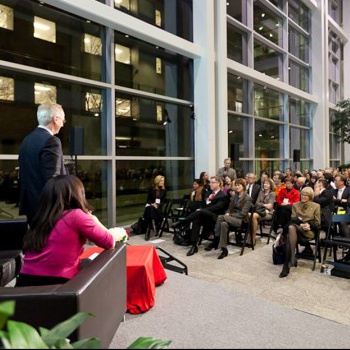 Bloomberg Manulife Prize: Is it Time to Invest in Your Health? (Montreal)
(Faculty of Education -- General)
Wednesday, January 21, 2015
12:30 PM to 1:30 PM
Join us for a conversation with David J.A. Jenkins, winner of McGill's 2014 Bloomberg Manulife Prize for the Promotion of Active Health. Dr. Jenkins, a Professor and Research Chair in Nutrition and Metabolism at the University of Toronto and one of the world's most influential nutritionists, will discuss his groundbreaking research and show how investing in a "Portfolio Diet" of cholesterol-lowering foods can prevent chronic disease and provide long-term health benefits.

Event is free but space is limited and registration is required.

Fruit, cookies, coffee and water will be provided. You are invited to bring along your lunch.
Details
We would appreciate being contacted if registrants are unable to attend (be kind to those on the waiting list).
Bloomberg Manulife Prize: Is it Time to Invest in Your Health? (Montreal)
(Faculty of Education -- General)
Wednesday, January 21, 2015
12:30 PM to 1:30 PM
Location
SSMU Ballroom (3rd Floor) -
3480 McTavish Street
Montreal, Quebec
CANADA
View map
RSVP
Register from Nov. 28, 2014 to Jan. 12, 2015