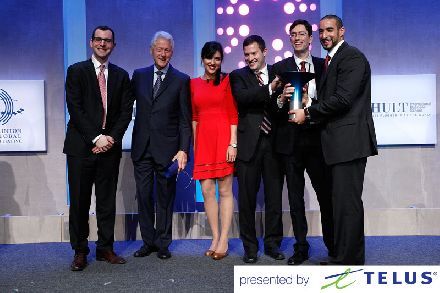 Hult Prize: The Million-Dollar Idea With Six Legs (Vancouver)
(Vancouver alumni branch)
Thursday, April 10, 2014
6 PM to 8 PM
Ever wondered what a cricket tastes like? Or how a creative and socially significant idea can lead to a million-dollar payout?

Now is your chance to find out. Come meet members of the dynamic team of Desautels MBA students who won the $1-million 2013 Hult Prize for Social Enterprise.

Through a lively discussion, the prize winners will explain how they beat out 10,000 teams from around the world to win the top prize, and how they are now bringing their ambitious idea to reality by introducing insect farming in the developing world to help combat malnutrition in urban slums.
Details
This event made possible by the generous support of TELUS.
Hult Prize: The Million-Dollar Idea With Six Legs (Vancouver)
(Vancouver alumni branch)
Thursday, April 10, 2014
6 PM to 8 PM
Location
Four Seasons Hotel -
Arbutus Room, 791 W Georgia St.
Vancouver, British Columbia
CANADA
View map
RSVP
Register from Feb. 19 to Apr. 9, 2014