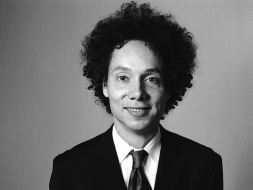 The 2013 Seagram Lecture with Malcolm Gladwell (SOLD OUT but can viewed via webcast)
Description
Malcolm Gladwell, one of the best-known writers in the world today, is coming to McGill for the 2013 Seagram Lecture.

On November 14, join us for a very special talk from the author of bestsellers including Blink, Outliers and The Tipping Point. Gladwell - who grew up in Elmira, Ont. and has served as a staff writer for The New Yorker since 1996 - will discuss his most recent effort, David and Goliath, a work exploring the struggle underdogs face against favourites. The book saw its beginnings in a piece Gladwell published in The New Yorker in 2009.

Accompanying the author will be Eleanor Wachtel, the host and co-creator of CBC Radio's Writers & Company, as well as the host of Wachtel on the Arts. Wachtel - who has written several books herself, among them 2003's Original Minds and 2007's Random Illuminations: Conversations With Carol Shields - will moderate the evening's discussion.

Presented by the McGill Institute for the Study of Canada, the Seagram Lecture has hosted thought-provoking scholars since its launch in 1997.

While the event is sold out, it can be viewed via webcast through the link below.
Details
Doors will open at 6:30 pm.

You MUST BRING a copy of your Registration Confirmation email for verification purposes.

Tickets will be available AT THE DOOR.
Date and Time
Thursday, November 14, 2013 7:00 PM to 9:00 PM
Location
Leacock Building, Room 132, 855 Sherbrooke Street West
Montreal, Quebec
CANADA
RSVP/Pre-Register
September 19, 2013 to November 14, 2013
Tickets
| | |
| --- | --- |
| General FREE | |
| OverFlow FREE | |