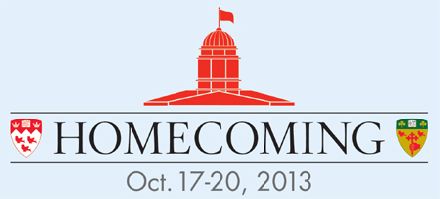 A: Leacock Luncheon (44th Annual)
(Homecoming)
44e Déjeuner annuel Leacock
Description
Get into the spirit of Homecoming Weekend as we honour the wit of legendary McGill professor Stephen Leacock. Both our speaker and moderator will have you rolling in the aisles.

Moderator: Derek Drummond, BArch'62

Guest Lecturer: Dan Needles, playwright behind the popular Wingfield Series that has played across Canada, and winner of a Stephen Leacock Medal for Humour. Dan delights audiences with his quaint, laugh-out-loud tales.

If you would like to sit with someone other than your classmates, indicate your request during the registration process. Seating is assigned on a first-come, first-served basis. Kindly note your meal choice and any serious food allergy as well.

Modérateur : Derek Drummond, B.Arch. 1962
Conférencier invité : Dan Needles. Lauréat d'une médaille de l'humour Stephen Leacock, l'auteur de la populaire série Wingfield qui a été vue partout au Canada fait le bonheur de ses auditoires avec ses histoires originales et désopilantes.

Rien de tel pour plonger dans l'esprit des Retrouvailles que de célébrer la vivacité d'esprit du légendaire professeur de McGill Stephen Leacock lors de ce déjeuner qui rend hommage à l'humour. Et n'en doutez pas, MM. Drummond et Needles vous feront rire aux larmes!

Nous attribuerons les places selon l'année de promotion et la faculté. Si vous désirez vous asseoir avec d'autres personnes que vos camarades de promotion, veuillez l'indiquer sur le Formulaire de réponse/Activités avec places assignées. Les sièges seront assignés dans l'ordre où les demandes seront reçues. Veuillez indiquer votre choix de menu et mentionner toute allergie alimentaire grave.
Date and Time
Friday, October 18, 2013 11:30 AM to 2:00 PM
Location
Hilton Montreal Bonaventure Hotel -
900 de la Gauchetière West, (corner Mansfield)
Montreal, Quebec
CANADA
RSVP/Pre-Register
August 1, 2013 to October 8, 2013
Tickets
General $65.00 CAD


(Cash Bar at Reception)