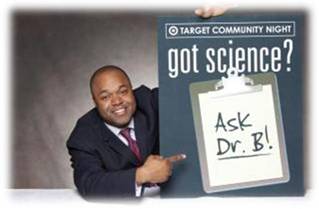 The Colour of Science
Description
This special Black History Month lecture by Frederic Bertley (Vice- President, Franklin Institute, Philadelphia) includes an introduction to the importance of Science Technology Engineering and Math (STEM) as well as an interview with Momar Ndao (Assistant Professor and research scientist in the Dept. of Medicine, Division of Infectious Diseases, McGill). Q & A follows the presentation.

More information about Frederic Bertley: As a current Philadelphia Business Journal 40 Under 40 Honoree, Dr. Frederic Bertley oversees programs aimed at improving the quality of science education throughout the K-12 and undergraduate populations, and augment science literacy for families as well as the non-scientist adult population. Dr. Bertley oversees bothresearch-based projects as well as program development and implementation including gender equity in science, K-12 professional development, community outreach, and the prestigious Benjamin Franklin Awards - the oldest science awards program in the world. Dr. Bertley is the founder of the Colour of Science Program.
More information about Momar Ndao: Momar Ndao is the Director of the National Research Laboratory for Parasitology at the Montreal General Hospital, where he works on parasitic diseases and screens for therapeutic drugs as well as develops vaccines to prevent parasitic diseases.
Details
This event is sponsored by the Franklin Institute in Philadelphia, and the Garvey Institute Inc.
Date and Time
Sunday, February 24, 2013 3:00 PM to 5:00 PM
Location
Redpath Museum Auditorium -
859 Sherbrooke Street West
Montreal, Quebec, H3A 1Y1
CANADA
RSVP/Pre-Register
Not required