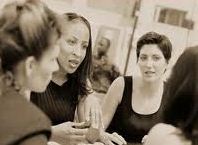 SOLD OUT! Women's Speed Mentoring Lunch in Toronto
(Toronto alumni branch)
Description
McGill is organizing a speed mentoring event just for women, with the kind of access to professional superstars that you rarely see. Five accomplished alumnae at the top of their fields will be your mentors - and you will have exclusive face-time with them at a seated lunch.

Your mentors will include an ace criminal lawyer, a former Bank of Montreal VP, and a senior fundraising specialist.

You will get brief but meaningful conversations with successful women who have gone through it all and are ready to share their wisdom. Whether you are starting your career or looking for tips on how to change career paths, build your network or have a strong work/life balance, this event is for you!

Pre-registration is required. Walk-ins will not be accommodated.
Please reserve early, as space is limited for this intimate event.

Mentors:

Diana Chant, BSc'74
Diana Chant, FCPA, FCA, is a fellow of the Ontario Institute of Chartered Accountants with more than 30 years of experience providing professional consulting and auditing services to Canadian financial institutions and major corporations. She was a senior partner with PricewaterhouseCoopers, most recently leading their Financial Services Risk Management Consulting Practice and, prior to that, their Financial Services Industry Practice.

Robin Fowler, CFRE, BA'90, MEd'96
Robin Fowler is a fundraising professional with over 20 years of experience in the non-profit sector. She is Senior Counsel with the Offord Group, where she has spent over 7 years consulting to many of Canada's top charities. Robin has previously worked on landmark campaigns with the Mount Sinai Hospital Foundation and McGill University and led the Advancement operations at Havergal College.

Pamela Horan, BA'96
Pamela Horan has worked with the Business Development Bank of Canada for over 13 years in several different roles including business development, underwriting and branch management. Currently, she is the Manager of the Toronto Business Centre. Prior to working at BDC, Pamela worked for Royal Bank in both National Office Small Business Marketing and Business Banking.

Apple Newton-Smith, BA'94
Apple Newton-Smith is a specialist in criminal law, practising exclusively criminal and quasi criminal law at both the trial and appellate level. She is also an Adjunct Professor at the University of Toronto Faculty of Law and a member of the Ontario Court of Appeal Appellate Duty Counsel panel.

Harriet Stairs, BA'67
Harriet Stairs was the Executive Vice President, Human Resources, at the Bank of Montreal until 2001 and is now a consultant in the human resources field. A governor emeritus of McGill University, she has been a member of the Strategic Management Association Board, as well as the Conference Board Council on Education.
Details
Cost includes lunch and non-alcoholic beverages.

NOTE: To put you at a table with women interested in similar topics, please advise which topic(s) you are most interested in. You can choose more than one theme during the registration process.
Date and Time
Wednesday, March 20, 2013 12:00 PM to 1:30 PM
Location
Toronto Board of Trade, First Canadian Place -
Ketchum Room, 77 Adelaide Street West
Toronto, Ontario, M5H 1P9
CANADA
RSVP/Pre-Register
February 1, 2013 to March 17, 2013