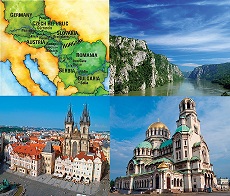 Grand Danube Passage - featuring Prague & Sofia
Le passage du grand Danube - avec arrêts à Prague et à Sofia
Description
Experience Eastern European culture, marvelous old-world capitals, ornate cathedrals and picturesque villages as you cruise the celebrated Grand Danube Passage for eight nights aboard the exclusively chartered MS Amadeus Brilliant. Discover enthralling scenery in eight countries and 12 cities and towns on the winding "king of Europe's rivers," and see ancient capitals, Roman ruins, magnificent churches, palaces and medieval castles in Vienna, Budapest, Vidin and Belgrade, among others. Explore the Jewish Quarter and Old Town during your three-night stay in Prague. Sail through the breathtaking vineyard-clad Wachau Valley, the Carpathian Mountains' dramatic cliffs, the twisting, narrow Danube Bend, and the formidable Iron Gate Gorge. Conclude this program of unparalleled beauty among the tree-shaded boulevards of Sofia, Bulgaria's capital, and admire the city whose name means wisdom. Amenities include lectures by local experts to enhance your insight into the region, luxury accommodations, an extensive meal plan, wine with dinner, and time for independent exploration.

Découvrez la culture de l'Europe orientale, les capitales féériques de l'Ancien Monde, des cathédrales richement décorées et de pittoresques villages tout au long de cette croisière de huit nuitées dans le célèbre passage du grand Danube à bord d'un navire exclusivement nolisé, le MS Amadeus Brilliant. Des paysages de rêve et douze villes dans huit pays vous attendent sur les rives de ce fleuve majestueux. Vous pourrez y admirer des capitales historiques, des ruines romaines, des églises, des palais et des châteaux-forts magnifiques, notamment à Vienne, Budapest, Vidin et Belgrade. Explorez le Quartier juif et la vieille ville pendant votre séjour de trois nuitées à Prague. Vous verrez la superbe vallée de la Wachau aux flancs tapissés de vignobles, les falaises spectaculaires des Carpates, la sinueuse courbe du Danube et l'impressionnante gorge des Portes de Fer. Ce programme d'une incroyable beauté se termine sur les boulevards bordés d'arbres de Sofia " capitale de la Bulgarie " ville dont le nom signifie « sagesse ». Vous pourrez profiter de conférences données par des experts locaux pour vous aider à mieux comprendre la région. Vous profiterez également d'un hébergement de luxe, d'un plan de repas complet, du vin avec le repas du soir et de temps libre pour l'exploration indépendante.
Details
Activity level: 2
Includes 14 breakfasts, 9 lunches, 10 dinners
Tea or coffee is included with all meals, plus wine at dinner

Limited Availability.

The no supplement for solo travellers is limited availability.

Niveau d'activité: 2
Repas inclus: 14 déjeuners, 9 diners, 10 soupers
Thé ou cadé avec tous les repas, vin au souper

Disponibilité limitée.
Date and Time
Sunday, September 15, 2013 to Monday, September 30, 2013
Location
Grand Danube Passage -
Sofia and Prague,
RSVP/Pre-Register
January 17, 2013 to September 30, 2013
Tickets
General $5053.15 CAD


+port +air