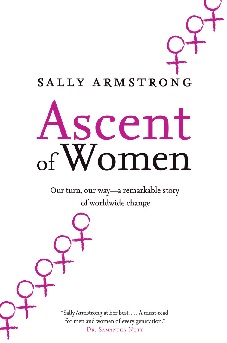 Meet Sally Armstrong - The Ascent of Women
(Montreal Area Events)
Description
Join us for an evening with one of Canada's pre-eminent human rights activists.

In her new book, Ascent of Women, journalist Sally Armstrong shows us why women and girls are the way forward and introduces us to the leading women who are making change happen, from Nobel Prize winners to little girls suing for justice.

Hosted by the McGill Bookstore, this event will feature a lecture and Q&A session with Sally Armstrong and a book signing opportunity. Ascent of Women will be available on-site at a special discounted price.
Date and Time
Wednesday, April 3, 2013 6:00 PM to 8:00 PM
Location
3rd Floor - McGill Bookstore, 3420 McTavish
Montreal, Quebec
CANADA
RSVP/Pre-Register
March 13, 2013 to April 3, 2013