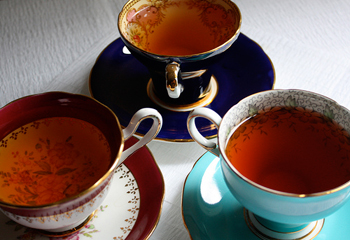 A - Alumnae (Women Graduates) Meet and Greet with a Cup of Tea
(Homecoming)
Diplômées Rencontre informelle autour d'une tasse de thé
Description
Join returning graduates and friends as we celebrate the support and sisterhood that RVC provided to generations of young women. Enjoy a traditional tea service, delicious sweets, prizes and a tour of our former home away from home.

The MWAA is proud to present the Honorable Marie Deschamps, who will speak on «Mon cheminement vers la Cour Suprême: Pursuing the most out of life ».

Joignez-vous aux diplômées et amies qui reviennent célébrer le soutien et la solidarité que le Collège a offerts depuis sa fondation à des générations de jeunes femmes. Il y aura un thé traditionnel, de délicieux desserts, des prix et une visite des lieux où chacune d'entre nous a trouvé un deuxième chez-soi.

Vous aurez également le plaisir de rencontrer l'Honorable juge Marie Deschamps de la Cour suprême du Canada, qui nous parlera de «Mon cheminement vers la Cour Suprême: Pursuing the most out of life ».
Details
FEATURED GUEST SPEAKER:
The Honourable Marie Deschamps received a Licentiate in Laws from the Université de Montréal in 1974 and an LL.M. from McGill University in 1983. The Université de Montréal awarded her an honorary doctorate in 2008.
She was called to the Quebec Bar in 1975 and practised as a trial lawyer at Martineau Walker and Sylvestre et Matte in commercial, family and civil law, then at Rouleau, Rumanek and Sirois in criminal law, and finally at Byers Casgrain in commercial and civil law.
She was appointed to the Quebec Superior Court on March 29, 1990, to the Quebec Court of Appeal on May 6, 1992 and to the Supreme Court of Canada on August 7, 2002. She retired as a judge on August 7th, 2012.
Upon being appointed to the Supreme Court of Canada, Madam Deschamps has taken a particular interest in the Court's Law Clerk Program, and she also sat on a number of committees of the Canadian Judicial Council and the National Judicial Institute.
Madam Deschamps was born in Repentigny, Quebec, on October 2, 1952. Her spouse, Paul Gobeil, is a businessman. They have two children: Valérie and Maxime.
Madam Deschamps is a sports enthusiast who skis, swims, hikes and jogs. Her interests also include art, travel and languages (in addition to French, her mother tongue, she speaks fluent English and has studied Italian and Spanish).
Information, contact Kay Dass at 514-398-3505,
kavetia.dass@mcgill.ca
.
Pour information : Kay Dass - 514-398-3505 ou
kavetia.dass@mcgill.ca
Date and Time
Saturday, October 13, 2012 10:30 AM to 12:00 PM
Location
Royal Victoria College -
3425 University Street
Montreal, Quebec
RSVP/Pre-Register
July 24, 2012 to October 9, 2012