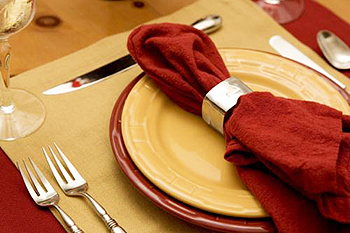 A - Red & White Dinner 50th - 75th Anniversary Classes
(Homecoming)
Dîner Rouge et Blanc Anniversaire des promotions 1937 à 1962
Description
McGill University welcomes the 50th and higher Anniversary Classes to a special dinner. A commemorative pin will be presented to celebrating graduates.

L'Université McGill est heureuse de convier les diplômés des promotions 1937 à 1962 à un dîner spécial. Une épinglette commémorative sera remise à tous les membres de ces promotions.
Details
6:30 pm Reception (Cash bar)
7 pm Dinner

Assigned seating is by class with guests at tables of 10. Please indicate seating requests, meal choice, and any serious food allergy during the registration process.

18 h 30 Réception (bar payant)
19 h Dîner

Les sièges sont assignés selon la promotion des diplômés, avec leurs invités, par tables de 10 convives. Si vous désirez être assis à un endroit particulier, veuillez l'indiquer lors de votre inscription en ligne. Veuilez aussi y indiquer votre choix de menu et mentionnez toute allergie alimentaire grave.
Date and Time
Friday, October 12, 2012 6:00 PM to 8:00 PM
Location
Hotel Omni Mont-Royal -
1050 Sherbrooke Street West
Montreal, Quebec
CANADA
RSVP/Pre-Register
July 24, 2012 to October 2, 2012
Tickets
General $70.00 CAD


(includes Wine)