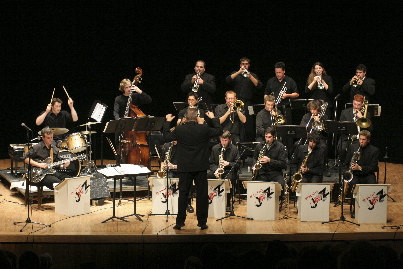 A - Spotlight on Schulich
(Homecoming)
Pleins feux sur Schulich
Description
Join us as we kick off Homecoming 2012 in swinging style! The Schulich School of Music and the McGill Alumni Association proudly present "Spotlight on Schulich," a concert featuring an appealing variety of great music performed by our talented and enthusiastic students.

Démarrez les Retrouvailles 2012 sur un air de swing! L'École de musique Schulich et l'Association des diplômés de McGill sont fiers de présenter « Pleins feux sur Schulich », un concert mettant en vedette les talentueux étudiants de McGill qui interpréteront une très attrayante sélection de pièces musicales.
Details
7 pm Reception
8 pm Concert
The McGill Alumni Association is also hosting a reception before the concert, and everyone is welcome to attend.
Meet the new McGill Alumni Association President and the Dean of Music.
For information, call Irene Baczynsky at 514-398-2101,
irene.baczynsky@mcgill.ca
.
19 h Réception
20 h Concert
Avant le concert, tous sont les bienvenus à une réception offerte par l'Association des diplômés de McGill.
Pour information : Irene Baczynsky - 514-398-2101 ou
irene.baczynsky@mcgill.ca
Date and Time
Thursday, October 11, 2012 7:00 PM to 10:00 PM
Location
Pollack Hall - 555 Sherbrooke Street West
Montreal, Quebec
RSVP/Pre-Register
July 24, 2012 to October 9, 2012