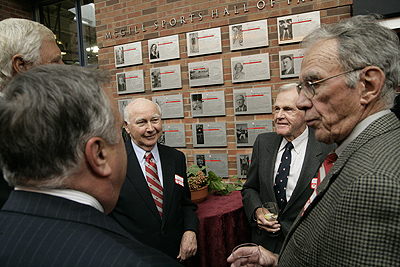 A - Sports Hall of Fame 17th Annual Luncheon
(Homecoming)
Temple de la renommée des sports 17e déjeuner annuel
Description
McGill men and women have demonstrated athletic excellence and leadership in sport for more than a century. Some have earned a special place in McGill sporting history.

Drew Love, Executive Director of McGill Athletics & Recreation, invites you to join us as we honour the Sports Hall of Fame's newest inductees:

Aldo Braccio, BA'85, MA'87 (soccer)
Carol Chiang, BSc'99 (swimming)
Mark Joncas, BEng'82 (football)
Air Vice-Marshal Frank McGill, BCom'15 (football, water polo, swimming)
1962 McGill Redmen football team, Yates Cup champions

Sports Hall of Fame Chairman Richard Pound, BCom'62, BCL'67, LLD'09, will preside as Chair, with Bob Babinski, BA'86, as Master of Ceremonies.

Depuis plus d'un siècle, les diplômés de McGill font preuve d'excellence sportive et de leadership. Plusieurs d'entre eux occupent une place spéciale dans l'histoire sportive de l'Université.

Drew Love, directeur général du Service des loisirs et des sports, vous invite à être des nôtres pour honorer les nouveaux intronisés au Temple de la renommée des sports :

Aldo Braccio, B.A. 1985, M.A. 1987 (soccer)
Carol Chiang, B.Sc. 1999 (natation)
Mark Joncas, B.Ing. 1982 (football)
Vice-maréchal de l'Air Frank McGill, B.Comm. 1915 (football, water-polo, natation)
Redmen de McGill, équipe de football 1962, champions de la Coupe Yates

Richard Pound, B.Comm. 1962, B.C.L. 1967, LL.D. 2009, président du Temple de la renommée des sports de McGill, agira à titre de président et Bob Babinski, B.A. 1986, sera maître de cérémonie.
Details
11:30 am Reception
12 pm Lunch

Seating is assigned. Please indicate seating requests, meal choice, and any serious food allergy during the registration process.

For information, call 514-398-7002.

11 h 30 Réception
12 h Déjeuner

Les places sont assignées. Si vous désirez être assis à un endroit particulier, veuillez l'indiquer lors de votre inscription en ligne . Veuilez aussi y indiquer votre choix de menu et mentionnez toute allergie alimentaire grave.

Pour information : 514-398-7002.
Date and Time
Thursday, October 11, 2012 11:30 AM to 2:00 PM
Location
McGill Sports Complex Tomlinson Hall -
475 Pine Avenue West
Montreal, Quebec
CANADA
RSVP/Pre-Register
July 24, 2012 to October 9, 2012
Tickets
General $65.00 CAD


(includes Wine)