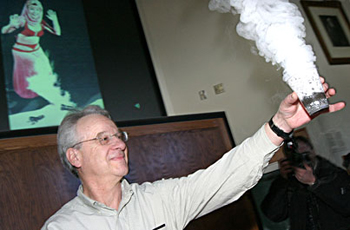 C - CWOQ: Series 2 - Class 2B: Life is a Risky Business
(Homecoming)
Cours sans quiz Série 2 - Cours 2B: Life is a Risky Business
Description
We are constantly bombarded with information about the risks we face in life. As a result we worryabout the safety of our food supply, toxins in the environment and the dangers of climate change. Life is indeed a risky business, but it's important to know what is worth worrying about. This lecture sorts out the facts from the myths to show that the real dangers are not always what we think they are.

Nous sommes constamment inondés d'information sur les dangers qui nous guettent. Qu'il soit question de la salubrité de nos aliments, des toxines dans l'environnement ou des dangers découlant du changement climatique, tout se conjugue pour nous donner l'impression que notre existence est constamment menacée. La vie est effectivement une aventure qui comporte des risques mais ce qui est important, c'est de savoir quelles sont les choses qui devraient nous inquiéter. Cette conférence départage les mythes de la réalité et démontre que les vrais dangers ne se trouvent pas forcément là où on les imagine.
Details
Ariel Fenster, PhD'72, is a Research Associate and Assistant Director of the McGill Office for Science and Society (oss.mcgill.ca/fenster.php).

Ariel Fenster, Ph.D. 1972, est associé de recherche et directeur adjoint du Bureau science et société de McGill (oss.mcgill.ca/fenster.php).
Date and Time
Saturday, October 13, 2012 2:45 PM to 4:15 PM
Location
Leacock Building -
855 rue Sherbrooke Ouest
Montreal, Quebec, H3A-2T7
CANADA
RSVP/Pre-Register
July 24, 2012 to October 9, 2012