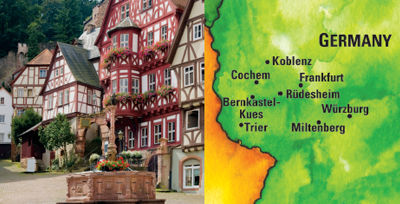 Villages and Vineyards: Mosel, Rhine and Main Rivers
(Alumni Services)
Description
Sail through a picturesque "painting" of storybook villages, steep vine-laden banks and pristine countryside as you cruise the Mosel, Rhine and Main Rivers in Germany for seven nights aboard the exclusively chartered MS Amadeus Diamond, offering elegant accommodations and river views from every cabin. Along the Mosel, perhaps Germany's most beautiful river, discover the highlights of Bernkastel-Kues, admire medieval architecture and Roman ruins in Trier, and visit charming Cochem, famous for its folk tales. See the legendary Lorelei Rock on the mighty Rhine. Learn about the region's winemaking traditions and enjoy tours and tastings at local vineyards. Marvel at the stunning Main River, explore the university town of Heidelberg, travel the Romantic Road and discover Würzburg, with its magnificent Residence, the "castle above all castles." This program includes all excursions, lectures on regional history and culture, an extensive meal plan and wine with dinners.

Naviguez à travers un tableau champêtre fait de pittoresques villages, de collines escarpées remplies de vigne et de paysages immaculés sur la Moselle, le Rhin et le Main, en Allemagne, pendant une excursion de sept nuitées à bord du MS Amadeus Diamond exclusivement affrété, avec ses cabines élégantes donnant toutes une vue sur le fleuve. Le long de la Moselle, peut-être la plus belle rivière d'Allemagne, découvrez les attractions de Bernkastel-Kues, admirez l'architecture médiévale et les ruines romaines de Trèves, et visitez Cochem, ville charmante
célèbre pour son folklore. Voyez le légendaire rocher de la Lorelei sur le puissant Rhin. Initiezvous aux traditions de vinification de la région et profitez de visites guidées et de dégustations dans les vignobles locaux. Le Main, fleuve magnifique, vous amènera à la ville universitaire de Heidelberg, le long de la Route Romantique et vers Wurtzbourg, site d'une splendide Résidence. Ce programme englobe toutes les excursions, des conférences sur l'histoire et la culture des régions visitées et un généreux plan de repas qui comprend le vin au souper.
Details
From $2,695 USD + VAT + air
À partir de 2 695 $ US + TVA + transport aérien

Activity Level 2: Active
Niveau d'activité 2 : Modérément actif

Meals included: 7 breakfasts, 6 lunches, 7 dinners; tea or coffee with all meals; wine with dinner
Repas inclus : 7 déjeuners, 6 dîners, 7 soupers; thé ou café avec tous les repas; vin au souper

Maximum number of passengers: 134
Nombre maximal de participants : 134
Date and Time
Monday, October 14, 2013 to Tuesday, October 22, 2013
Location
Trier, Cochem, and more
GERMANY
RSVP/Pre-Register
June 7, 2012 to October 7, 2013
Tickets
General $2695.00 USD


(plus VAT and Air)