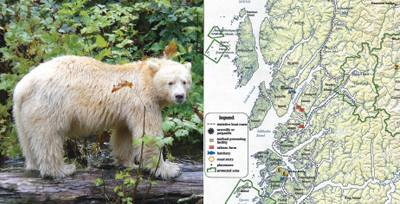 Great Bear Rainforest
Forêt pluviale du Grand Ours
Description
Cruise the remote Central Coast of British Columbia and into the Great Bear Rainforest on this Canadian Signature Experience.

Explore the last remaining tract of unspoiled temperate rainforest on the Pacific Coast aboard our 70-foot yachts and see a wilderness accessible only by sea. Travel intricate waterways beneath towering mountains and observe feeding humpback whales and other marine mammals.

See grizzly bears feasting on salmon in coastal estuaries - sometimes with cubs in tow - and experience lush, old-growth forests. We go in search of the all-white Spirit Bear, a sub-species of black bear found only in this isolated locale. Let our knowledgeable crew and naturalists guide you on this learning journey along the famed Inside Passage and into the realm of the "Great Bear."

Cette expédition offerte par Canadian Signature Experience vous fera naviguer au large de la côte centrale de la Colombie-Britannique jusque dans la forêt pluviale du Grand Ours.

Explorez le dernier tract restant de la forêt pluviale tempérée intacte de la côte du Pacifique à bord de nos voiliers de 70 pieds et voyez une région sauvage qui n'est accessible que par voie maritime. Vous parcourrez un réseau labyrinthique de cours d'eau sous de hautes montagnes où vous pourrez observer des baleines à bosse et d'autres mammifères marins.

Vous verrez des grizzlis, parfois accompagnés de leurs petits, festoyer sur le saumon dans les estuaires côtiers et vivrez des expériences fascinantes à l'orée de luxuriantes forêts anciennes. Nous irons à la recherche de l'Ours Esprit au pelage blanc, une sous-espèce de l'ours noir qu'on ne trouve que dans ce lieu isolé. Laissez notre équipage expérimenté et nos naturalistes vous guider sur ce parcours d'apprentissage le long du célèbre Passage de l'Intérieur et dans le domaine du Grand Ours.
Details
$4750 CDN + 12% HST per person + air
4 750 $ CAN + 12 % TVH par personne + transport aérien

Activity Level 2: Moderate
Niveau d'activité 2 : Modérément actif

Meals included: All
Repas inclus : Tous

Maximum number of passengers on trip: 13
Nombre maximal de participants : 13
Date and Time
Monday, September 30, 2013 to Monday, October 7, 2013
RSVP/Pre-Register
April 24, 2012 to September 22, 2013
Tickets
General $4750.00 CAD


(Plus 12% HST per person and air)